As you journey through life it is always nice to know that there are others who are going through some of the similar situations that you are.  It can be helpful to share experiences and to learn from each other and featured presenters.
Post Adoption Counseling/Support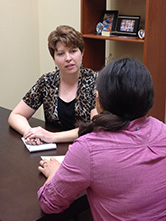 For those experiencing difficulties in their adoption journey, Family STAR, is available to provide individualized intervention and support. Experienced, professional counselors are available through Family STAR to assist with issues such as: defining an open adoption relationship that will best meet the child's needs over time; dealing with grief and loss related to placing a child; building attachment with an older adopted child, self esteem and other identity issues, cultural competency and relationship building, etc.
Common Issues presented to counselors at Family STAR include but are NOT limited to:
Triad Communication
Developing a relationship amongst all the members of the adoption triad is not always the dream that many people are hoping it will be. Just as relationships in one's life often take work, empathy and patience, relationships within the triad take work, empathy and patience. It can be helpful to have an educated, objective third party to help further relationships or to be a sounding board when things become difficult. Anyone touched by adoption is invited to reach out to Family STAR if you would like some assistance with these relationships.
Identity Formation
It is well documented that, in general, adoptees struggle more than non-adoptees with regards to identity formation. These identity issues may surface at any stage of an adoptee's life, from preteen through older adulthood. Struggles related to adoption may fly under the radar or they may rear up, often during times of stress. As a result, adoptees (as well as their families) may be in need of additional support. Individual and family counseling, support, and/or resources are available at Family STAR to interested individuals and families.
Parenting
The journey for parents of adopted children is different then the journey for parents of biological children. The journey includes: talking to your child about adoption; ways to make the most of a semi-open or open adoption; helping your child come to terms with their beginnings; and finally, supporting your child's relationship with his/her biological family and/or his or her cultural heritage.
Marriage and Divorce
There are many life issues to deal with and when one's marriage is in jeopardy it can cause a host of additional issues. Family STAR offers individual, couple's and family counseling. The setting is confidential and the sessions provide an opportunity to address how the marital issues play a role in one's adoption journey as well.
Infertility
Family STAR provides a safe and confidential environment for individuals and couples to begin to deal with the affects of infertility. Clients are encouraged to consider individual, couples and small group support sessions. Participants are able to create a healthy plan that includes continuing fertility treatments, deciding if and when to cease such treatments, exploring various options to reach parenthood or choosing to remain childfree.
Lifebook
A lifebook is a record of a foster/adoptee's life that uses words, photos, graphics, the child's artwork, and/or memorabilia. A lifebook is a unique opportunity for parents to honor every stage of their children's lives. Family STAR can help you and/or your child create a lifebook that will be a treasure for you and your child. The process of creating and/or sharing a lifebook can be comfortable way to talk with your child about his or her adoption story and to answer questions he or she may have.
Parenting
As anyone in the field of adoption can attest to, identity issue struggles for children can be exacerbated when they are also adoptees. As a result, the children themselves (as well as their families) may be in need of additional support. Parenting and family counseling, support, training, advocacy and resources are easily available to those parents and families interested.